Product info
1. What Strike Fighter is?
A very engaging training formula
Strike Fighter is a training set consisting of a training game and facilitator's manual. Materials are multi-use and make work with the group more interesting.
Scenario based on facts
The game was inspired by a negotiation case within the US Army described in the book 'Blue Ocean Strategy'. The game is set in the Pentagon in the 90s...
2. Why use it?
In order to raise quickly and effectively sales, negotiation and communication efficiency in a team. Participation in the game helps develop and strengthen competencies required to:
Efficiently acquire new clients and build long-term relationships
Sell values: translating product features into benefits for the client
Conduct difficult talks, not only sales related
Understand clients and contractors' needs
3. When to use it?
SF provides enriching experience to trainings on sales, negotiations, communication and conflict resolution:
Negotiations: preparation for difficult talks and conducting negotiations, building the negotiation strategy
Communication: building understanding and logical argumentation
Teambuilding: the importance of cooperation in a team and between teams
Trade negotiations: establishing negotiation goals for oneself and partners
Conflict management: communication in conflict situation
4. Who should play?
It has been designed for all people looking for practical skills:
All those for whom the ability to hold difficult meetings and conversations is important in their professional context
Key account managers
Procurement departments
Sales departments
Sales representatives
Cross-department project teams
Read participants opinions
Bardzo ciekawa i złożona gra. To, czego nauczyłem się z tej gry: do negocjacji trzeba się bardzo dobrze przygotować.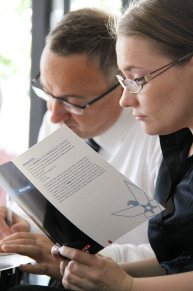 Contact